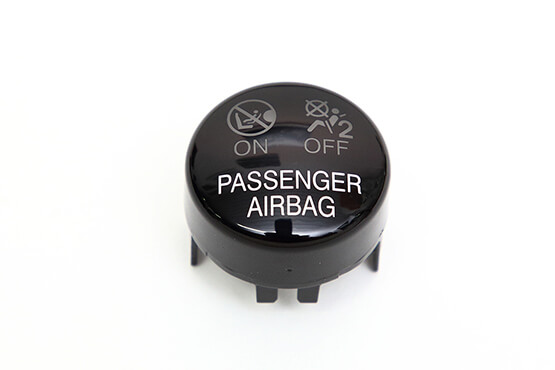 Expertise and technology for refined parts
Tampography is a silicone pad printing technique, which transfers images and colors to the surface to be decorated.. Hot stamping is a direct printing technique, for which the contrasting element is transferred through a combination of heat, pressure, and detachment speed.
If combined with painting, the pad printing technique provides high-impact aesthetic solutions.
This process stands out for the relief obtained by breaking up the material on which the decorations are made.
Pad printing is a service that Seristudio is proud to provide.
In fact, pad printing is one of the first marking techniques we have specialized in. We used manual technologies and equipment. But over time we became an authorized facility in Italy for MADAG, the long-standing Swiss brand.
The company's plants are equipped with electric and pneumatic machines, which exploit the pad printing technique to deposit poly-chrome inks on plastic items. Ink-thickness control low-relief clichés from where ink is collected and conveyed to the piece to be decorated with a thermoplastic or silicone rubber pad.
Seristudio's pad printing service is the result of advanced training, which allows the company to get complex decorations.
Pad printing is used to treat small- or medium-sized items and ensures high-precision. So, as well as screen printing, which is used for items having complex shapes, this process enriches the company's range of services. The pad printing technique is an indirect printing process, which uses a soft pad.
The image is transferred to a flat or irregular surface, while the corona treatment allows us to work on complex surfaces.
THE ADDED VALUE OF MORE THAN 30 YEARS OF EXPERIENCE
This is one of Seristudio's flagship services. Its 30+ years of experience and the knowledge gained about this machinery has allowed Seristudio to be the pioneer in this industry, as the company took on all the challenges this technology involves. This ability is part of the company and of its history.
The company's range of services also includes hot stamping. This technique allows Seristudio to work by exploiting pressure and temperature for decorations.
Hot stamping is carried out by means of a film with dry ink, to which the ideogram graphic is pressed from above. This graphic is applied to the item through the transfer of the paint film to the item.
Of course, to get a sophisticated and strong customization, the ink, thermal glue, and support must be of the best quality possible.
Seristudio is equipped with 3 machines intended for this purpose. That's why the company can decorate complex surfaces. These machines are provided by a supplier, which is one of Europe's leading companies in this industry, who exploits state-of-the-art and advanced technologies. For Seristudio providing fine metal- or mirror-effect finishes on difficult materials is not a problem.
The company's experience comes from the cosmetic industry, which today refers to Seristudio for the finishes of specific painted products, for a richer range of finishes.